Baptist Health Nursing & Rehab Center
A Message From Our President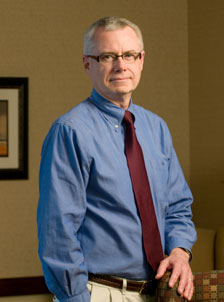 Timothy W. Bartos


Since 1977, Baptist Health Nursing and Rehabilitation Center has been touching lives. It is overwhelming to realize how many of the elderly and their families have placed their trust in us.
Likewise, it is overwhelming to realize how many exceptional people . . . both in the past and present . . . have devoted themselves to our mission. So much gratitude goes to staff, volunteers, Board of Directors, Foundation, churches, families, organizations, and businesses for helping make this facility one of the most unique and finest long term residential and short term rehabilitation centers in our country. In November of 2007 we celebrated our 30th Anniversary of "People Caring for People."
To truly experience our work and mission, you have to visit and witness first hand a very special nursing facility. You need to walk our halls and feel the air of optimism and hope that pervades our walls. You need to see first hand the gentle, healing touch of a nurse or nurse 's assistant. You have to talk to a dietary department employee as they carefully insure that food is appetizing, served hot and on time, and you have to witness the precise and deliberate movements of a maintenance or housekeeping employee as they insure that equipment is working well and our building is immaculate. The dedication, commitment and teamwork exhibited here to insure continuity and quality of care rivals that of any facility. Many on our staff have been here for many years. It is our mission to serve not only our residents, but their families as well.
The future of health care will be one of change. You can be sure we are committed to expanding our health care services and moving ahead to better serve our community.
We invite you to come in and take a tour. Walk our hallways and see the interaction between staff and residents. I'm sure you will leave here feeling that this is indeed an exceptional facility.